Integrated Care
Made SimpleTM
Our remote patient monitoring services easily integrate
with your workflows and EHR
Integrated remote patient monitoring services
for patients and clinicians
Easily launch and scale a Remote Patient Monitoring program to engage all your patients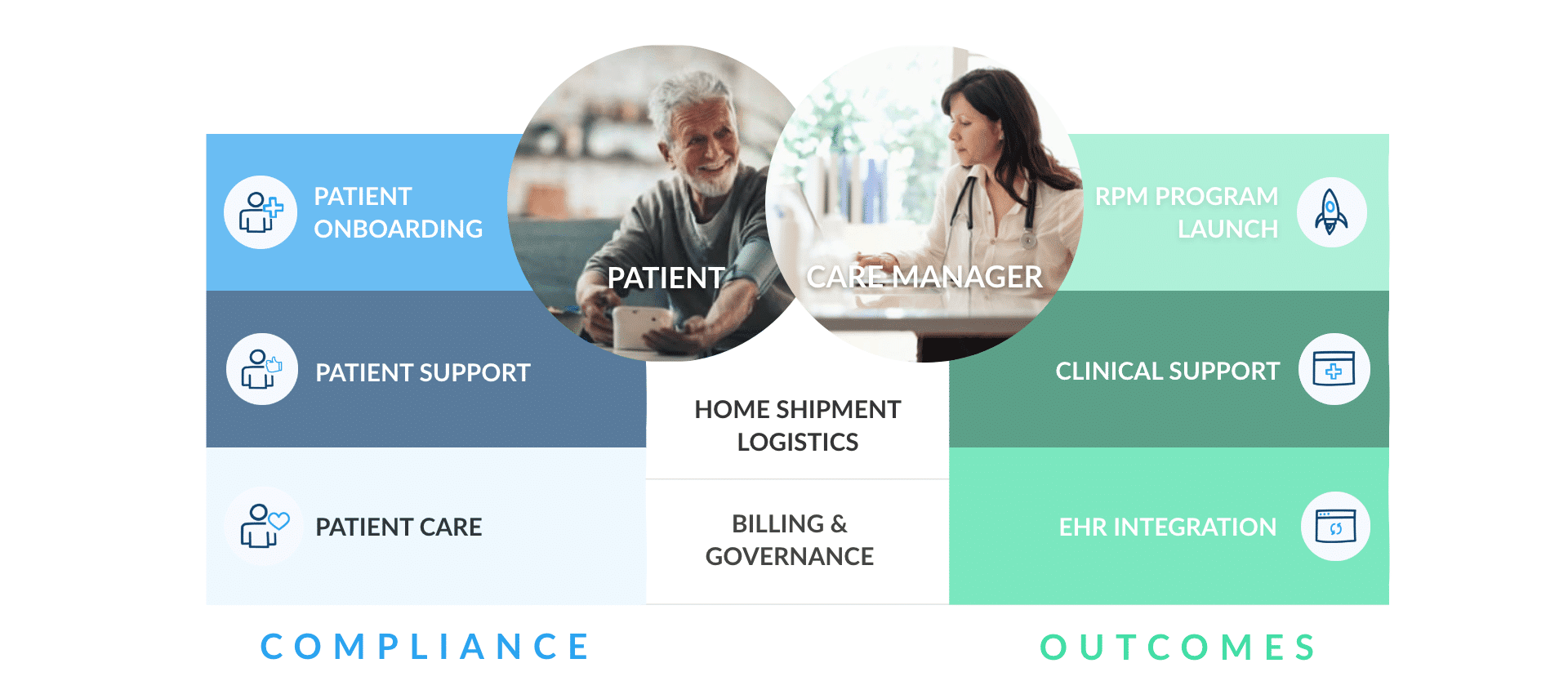 Successful RPM programs require planning for launch
Our Customer Success Managers (CSM) can help at any point along our five-step process
STEP 1 - Preparing the launch
This first phase includes the setup of the roles and responsibilities, the project planning and milestones towards the RPM program launch, training schedules, shared best practices, product needs such as custom care plans, questionnaires, new features if required and obviously, defining the KPIs that you will use to measure success.
STEP 2 - Designing Workflows
This second phase is about sharing insights on the workflows that have proven successful and optimizing them for your practice. Often in this phase, our CSM will provide you with a Demo environment access so you can test the workflow.
STEP 3 - Patient Consent
Whether verbal or written, our CSMs are experienced with collecting patient consent. For written consent, there are many ways the platform itself can be leveraged to achieve the result, but no obligation to do so. If you have your own patient consent mechanism, our CSM shall tailor to your practice to keep it as simple and natural as possible. Launching an RPM program should feel like a natural digital extension of your practice.
STEP 4 - Patient Outreach
The third phase is about reaching out to the patients you've chosen to onboard in the RPM program. You can leverage the experience of our CSM team with calling scripts and best practices that can be tailored to any practice.
STEP 5 - Business Readiness Test (BRT)
You are now almost ready for the launch. As quality and operational excellence is key in the success of an RPM program, we strongly recommend running a BRT prior to the launch to validate every angle of the workflow and any integrated systems that are part of the overall clinical and patient experience. Our teams are at your service to coordinate this BRT.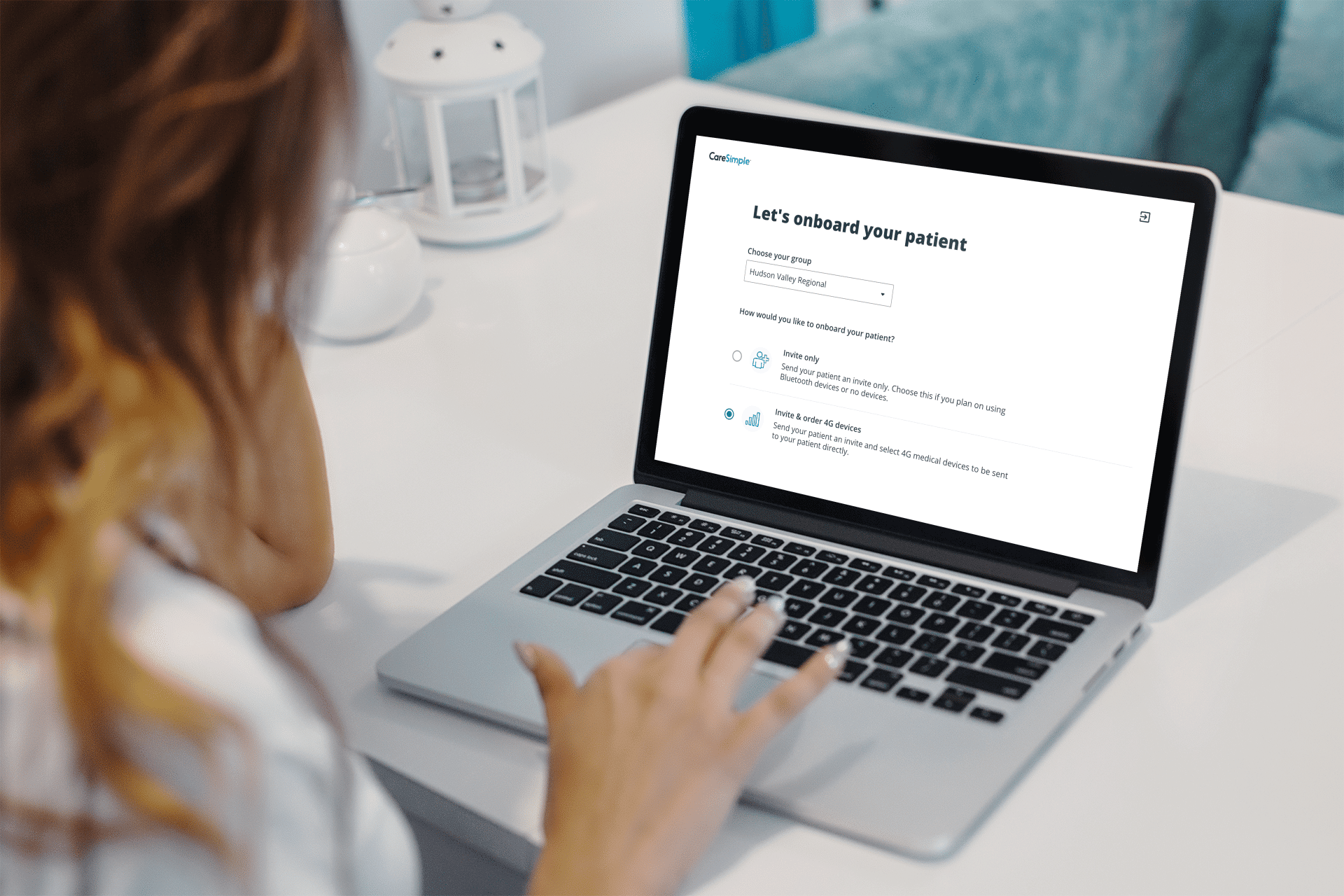 Onboarding patients is easy with CareSimple
Three options to match your workflow
Onboarding patients to chronic care programs used to be tedious and complicated. No longer!
We pre-configure the medical devices for each patient to work out of the box. We also ship the devices to the patient's home for you.
Choose from three easy ways to onboard your patients
Clinical Portal
Select the device you want to assign to your patient and enter the prescribed care plan, or pre-populate a form with our convenient EHR Integration service. The information is securely fed to our Customer Success team, who validate and process your orders promptly. Your patient receives their configured medical devices at home a few days later.
In the meantime, your patient receives an email and/or text message inviting them to download the CareSimple Patient App which allows them to view  their own readings and access patient education material associated to their care plan. They are also reminded to complete various tasks and respond to questionnaires, and can engage in telehealth and so forth.
Note that the use of the app is optional for the remote collection of patient readings, since the medical devices send data directly to CareSimple Clinical Portal.
Bulk Onboarding
Need to ramp up your RPM Program fast? Bulk Patient Onboarding is designed for doing just that. You fill out a spreadsheet and send it to us via a secured transfer mechanism.  Our Customer Success team then onboards your patients for you, and your patients then receive emails and/or text messages as well as their devices in a few days.
You can also use a semi-automated Excel query/filter between your EHR and our team to automate the process with simplicity, security and scalability.
Ad-hoc Onboarding
You've got several locations with a centralized clinical call centre operating all your remote patient monitoring, and you prefer to onboard patients with face-to-face visits? Ad-Hoc Onboarding is designed for that. It's also perfect for home care providers visiting patients.
Our Customer Success team will show you how to create a small inventory of various devices that can be kept at each of your locations. In this case, the pre-configuration of the devices for each patient is done in two steps. The first half uses our Bulk Order Process and the second half is done in person when the device is provided to the patient.
Let's talk about your patient onboarding
Let's talk about Remote Patient Monitoring
Let us know a little about you and we'll reach out to schedule an inside look at how CareSimple can help you monitor thousands of patients headache-free.
You can also get in touch with us at +1 866 822 8461
Great solutions, great support
Our experienced team provides you with end-to-end support
With CareSimple, you're never alone with your RPM Program.
With 10+ years of creating digital health products and over 4.5M Health App downloads, our team has vast experience supporting chronic care patients.
We'll provide you with the digital health expertise you need so you can focus on what you do best: providing care.
We provide technical support at all levels: patients, clinicians and health IT.
Clinical Support
We know how valuable your time is: that's why we treat every clinical support request with care and efficiency. You'll also have a direct chat line with our technical support team on the CareSimple Clinical Portal, so you are always a click away from getting your question answered.
Technical support requests from both clinicians and patients always get triaged by severity with regards to the usability of the system as well as for the health hazard risks. Each request is diligently logged and tracked as well as managed by senior management during the regular reviews we perform of all our processes and customer requests.
Patient Support
Your patient will receive information on how to obtain technical support in many ways, such as by email and a leaflet included in the device box. We are based in North America and provide all support services ourselves, without any outsourcing to an external call center. Our technical support specialists are trained for HIPAA and all our ISO-audited processes for Quality and Security so that you can trust the professionalism and decidated attention your patients will receive for all their inquiries.
Health IT Support
Health IT support services are often required for On-Prem CareSimple installations and for CareSimple EHR integrations.
In both cases, our team of certified compliance officers, support engineers, technical account managers and DevOps specialists are available to support you throughout your RPM program's implementation, updates and maintenance in line with your specific CareSimple setup.
All our Health IT support is performed under rigorous ISO-13485 and ISO-27001 certified development, testing and security processes.
Let's talk about Remote Patient Monitoring
Let us know a little about you and we'll reach out to schedule an inside look at how CareSimple can help you monitor thousands of patients headache-free.
You can also get in touch with us at +1 866 822 8461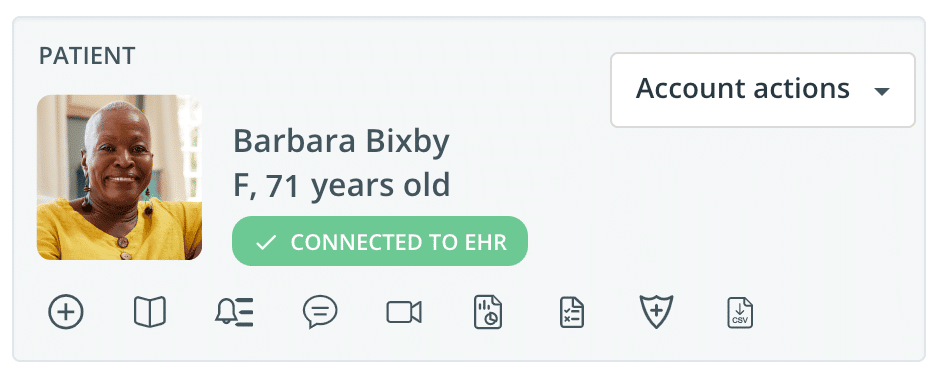 From our portal to your EHR –  seamlessly
EHR integration increases clinical efficiency, optimize workflows and avoids duplication of entries
We also integrate with over 40 EHR systems, including Allscripts, AthenaHealth, Cerner, eClinicalWorks, Epic, Greenway, McKesson, MEDITECH, NextGen and more.
Your EHR integration includes:
Monthly upload of Patient Summary Report to EHR – location determined by health system/EHR
On-demand upload of Patient Summary to EHR – same location as monthly upload
Setup support service from leading engineers in digital health-HL7 systems integration
Workflow standardization. VPN (or alternative) connectivity build and maintenance
Custom mapping configurations from legacy interfaces (HL7, FHIR, CDA, X12, custom APIs, etc.)
Unlimited bi-directional data connections and unlimited message transactions
Select your EHR from the list below to get started
Complete solutions for large organizations
Perfect for self-managed environments
CareSimple On-Premise (CS/OP) is our Enterprise Edition for self-managed digital health environments. Need to achieve specific data residency, security and sovereignty requirements? Must have version control, or want to promote your brand? CS/OP provides enterprise-grade capabilities to meet all your population health program IT requirements.
CareSimple On-Premise (CS/OP) is a deployment option specifically designed to support the unique and complex requirements of enterprise organizations.
Featuring the market-leading interfaces and capabilities of CareSimple, CS/OP is delivered in the form of binaries that your organization publishes on its own app stores and installation packages hosted on your self-managed environment.
The CS/OP license includes:
Mobile application binaries for patients, available on iOS and Android
A clinical portal for care managers, optimized for Google Chrome
A provisioning portal to manage stakeholder access and content, optimized for Google Chrome
Cloud installation packages
APIs to run custom integrations
Rich documentation resources to understand, implement and maintain the platform
Premium support and technical account management for the first 180 days
Better post-acute and chronic care management – without additional staff
Leverage our network of service providers
Often, a shortage of clinical staff makes it challenging to seize the opportunity that Remote Patient Monitoring represents. But did you know that as per the CMS 2020 Physician Fee Schedule, RPM can be provided "incident to" under general supervision?
This enables you to launch an RPM program using an outside organization to provide the services under your supervision. We call these organizations Remote Care Services (RCS) Providers.
RCS Providers in several states currently offer their services to local physician groups and use CareSimple to provide their services.
Need an RCS Provider?
We have one in your area.
Let's talk about Remote Patient Monitoring
Let us know a little about you and we'll reach out to schedule an
inside look at how CareSimple can help you monitor thousands of patients headache-free.
You can also can in touch with us at +1 866 822 8461
If you are an RCS Provider and want to use CareSimple, fill out our form – we'll be in touch.
Let's talk about Remote Patient Monitoring
Let us know a little about you and we'll reach out to schedule an
inside look at how CareSimple can help you monitor thousands of patients headache-free.
You can also can in touch with us at +1 866 822 8461