Ultimate Guide to Remote Patient Monitoring
Welcome to the CareSimple ultimate guide to remote patient monitoring (RPM), your source for all the information you need to understand this important model of healthcare delivery. From the basics through to advanced uses and the likely future, we'll walk you through every aspect of RPM, and its context within the larger U.S. healthcare system.
Don't forget to bookmark this page —there's more to come, and we'll update it as news develops, technology changes, and new reimbursement amounts are introduced.
RPG Glossary
Patients, care, healthcare.
Remote Patient Monitoring, chronic conditions, pulse oximeter, blood, disease, condition
Vital signs, medical devices, healthcare organizations, blood pressure cuff, chronic diseases, practices. Visits, difference, review, remote patient monitoring programs.
Remote patient monitoring devices, center, Remote Monitoring, RPM devices.
RPM program, heart rate, remote patient monitoring services.
COVID-19 patients, readmission, person care, patient care, mortality, healthcare providers
Quality of life lives, survey, heart disease, clinical practice, population, emergency room visits, person visits, analysis.
Systems, wide range, skilled nursing facility, benefits of RPM, providers for assessment, remote monitoring devices, patient health, hospital readmission, chronic care management.
BEAT-HF, Healthcare IT News, qualified healthcare professional, blood pressure.
Blood glucose levels, blood pressure readings, pulmonary disease, and emergency department visits.
Acute conditions, systematic review, content, Kaiser Permanente, chronic patients, effects among patients.
Readmissions among patients, patient home monitoring program, ambulatory patients, broad patient eligibility criteria, decompensation in patients.
Hospitalizations in Cancer Patients, Intervention patients.
Remote patient management, remote patient telemonitoring.
30-day all-cause readmission, readmission with receipt, 30-day readmission, the focus of readmission reduction.
Models for readmission, readmission reduction efforts, all-cause readmission.
180-d readmission analyses, readmission after hospitalization, secondary readmission outcome measures, usual care participants, Care Innovations, care modality, care transition management, monitoring with care transition.
BEAT-HF intervention, BEAT-HF project managers, BEAT-HF study, BEAT-HF enrolment nurses.
BEAT-HF funding, BEAT-HF post-discharge intervention nurses, BEAT-HF research staff.
BEAT-HF trial, 180-day all-cause mortality, 30-day all-cause mortality, mortality with receipt.
180-day mortality, 30-day mortality, mortality analyses, 30-day mortality findings, healthcare team, blood sugar levels, life score, life improvements.
Life Inc, life outcomes, 180-day survey respondents, characteristics from survey respondents, survey nonrespondents.
Survey response rates, medical centers, telephone call center intervention.
Telephone call center nurses, actual practice, physician practices, broad population.
Population Health Research Institute, population of patients hospitalized.
Hospital death differences, Non-significant differences, adjusted analysis.
Statistical analysis, review of deaths suggest, intellectual content.
Supplemental content, hemodynamic monitoring systems, tele monitoring system vendor.
Covid-19, understanding, rpm, patients, public health, telemedicine, digital health, payment, ama.
Patient, American medical association, technology, CPT, medication adherence, patient monitoring.
White papers, remote patient monitoring, medicare, inbox, reimbursement, pandemic
Copd, remote physiologic monitoring, hospital, safety, health, applications, telehealth.
Wearables, definition, amazon, cost, organization, calculator, door, modality.
Market, technologies, app, medicine, learning, diabetes, science, resource, table of contents, hospice, fee, clinic.
Hypertension, medical education, chronic care management, medical service, stress, video, cardiovascular risk, data, physician, physicians, hospitalizations, vaccine, pulmonology, research, blog, length of stay, clinical evidence.
Policies, emergency, policy, healthcare industry, California, blood pressure cuff.
Covid-19 public health, burnout, peak expiratory flow, cureatr, audits.
Massachusetts, Alaska, Connecticut, webinars, readmissions, eCommerce, retail, financial services, georgia, protocols, health care.
New york, Puerto Rico, bivalent, medical schools, loans, parental leave, Illinois, Missouri, cybersecurity, health sector, free content, hhs, Ohio.
Endocrinology, hrs, cardiac, medical student, Iowa, North Carolina.
Kentucky, Delaware, Arizona, health service, mayo clinic health system, healthcare, preventive care, languages, Hawaii, Orion health, residency, mainstream.
Indiana, Oregon, Alabama, training, med student, Oklahoma, New Hampshire, Louisiana, Kansas, news, pandemics.
Email, triage, state, palliative care, Arkansas, activity trackers, newsletter, intelligence, stethoscope, Montana, Nebraska, Idaho, Nevada.
North Dakota, New Mexico, company, Wisconsin, statistics, sales, mobile.
Pennsylvania, Colorado, Maryland, population health, inpatient, Florida, New Jersey, education, privacy policy.
Health systems, pulse oximeter, ECG, Maine, download, Mississippi, cardiology, compliance, Bluetooth, well-being, stakeholders.
Advocacy, password, Michigan, immunization, sound, dashboard, knowledge, library, quality of life, webinar, menu.
Best practices, growing, it's, personal, short, multi, ones, vendor, here's, develop, as remote.
Telehealth policy, ask, coverage, monitoring services, covid, via rpm, playbook, grow, as rpm.
Connecting, would, issue, issues, window, often, ama, s growing, connected health policy.
Between, organizations, levels, stories, FDA, organ, advance, symptoms, science, around, multiple, apis, early, virtual visits.
An Introduction to Remote Patient Monitoring
What Is Remote Patient Monitoring?
Is Remote Patient Monitoring the Same Thing as Telehealth?
A Brief History of Telehealth and RPM
How is RPM Used to Deliver Patient Care?
The RPM Model, as Defined by CPT Reimbursement Codes
What Technology Is Used to Deliver RPM?
Quick Guide to RPM Devices: RPM Blood Pressure Monitor
Quick Guide to RPM Devices: RPM Pulse Oximeter
Quick Guide to RPM Devices: RPM Weight Scale
Quick Guide to RPM Devices: RPM Spirometer
Quick Guide to RPM Devices: RPM Glucometer
The Benefits of Remote Patient Monitoring
How Does Remote Patient Monitoring Benefit Patients?
How Does Remote Patient Monitoring Benefit Providers?
How Does Remote Patient Monitoring Benefit Payers?
Estimating the Costs of Remote Patient Monitoring
RPM Cost Factors: Facility Type
RPM Cost Factors: Population Type
RPM Cost Factors: Workforce Adjustments
RPM Cost Factors: Type of Devices Needed (and How Many)
RPM Cost Factors: Type of Software
RPM Cost Factors: Analytics and Reporting
Beyond Standalone Care:
Other Care Management Models that Use RPM
How RPM Supports Population Health Management
How RPM Supports Hospital-at-Home (HaH) Programs
Looking for More Info or Guidance on Remote Patient Monitoring?
The Basics of Remote Patient Monitoring
What is remote patient monitoring, and why is it so important to patient care today?
And is it the same thing as telehealth? Let's start at the start.
What Is Remote Patient Monitoring?
Remote patient monitoring (RPM) is a model of care delivery that in which patient information is tracked, monitored and/or managed on a remote (or virtual) basis. In general, RPM lets patients stay at home while receiving attentive, high-quality care for chronic illnesses, serious injury or other conditions.
Using remote patient monitoring, doctors and other practitioners can closely monitor the vital signs and other essential data like heart rate and blood pressure of certain patients while they're at home, with no need for lengthy and expensive hospital stays. RPM care also includes regular check-ins, usually also carried out remotely (via phone or a video chat, for instance).
In the past, RPM was most often used to provide care in the home for people with chronic conditions, including severe respiratory conditions, heart and kidney disease, diabetes, cancer, and others, as well as those recovering from serious injury. Today, it has expanded to cover many other aspects of patient care, particularly since the COVID-19 pandemic has accelerated the demand for at-home care.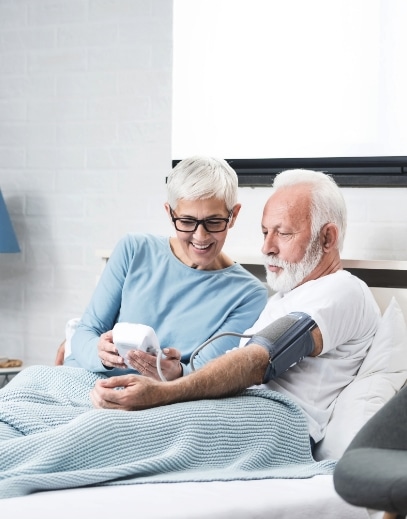 Is Remote Patient Monitoring the Same Thing as Telehealth?
In a larger context, RPM is a type of telehealth. Telehealth (or telemedicine, as it's often called) is a term describing healthcare that uses technology to treat patients "across distance," as the U.S. Centers for Medicare & Medicaid Services (CMS) defines it. "Across distance" means remotely — in other words, the patient and doctor or care team in different physical locations (although not necessarily all the time).
In addition to being a standalone model of care management, the technology that underlies RPM is also used within other care management models. These include chronic care management (CCM), transitional care management (TCM), principal care management (PCM) and other, each of which integrates a variety of RPM devices to provide at-home care for high-risk patients.
Read more about the different types of care management models that use RPM here
A Brief History of Telehealth and RPM
Also sometimes called remote physiologic monitoring, RPM has been in use for decades.
Researchers have traced
the creation of telehealth to the late 1960s, when organizations like the National Aeronautics and Space Administration (NASA) used closed-circuit television to communicate in the context of healthcare delivery.
In the 2000s, technology had advanced to the level that allowed the connection of medical devices in the home to a hospital or other clinical setting, and remote patient monitoring as we know it was born. As the potential of RPM to treat patient with chronic conditions became clear, its use expanded throughout the United States.
Recognizing the potential of telehealth and RPM to reduce expenses related to healthcare delivery, the U.S. federal government worked expand its use within Veterans Affairs (VA) facilities throughout the 2010s. And in 2019, the first CPT® codes for RPM were introduced, allowing doctors and qualified providers to be reimbursed for providing remote care.
In the years since, those CPT codes have expanded, as have other codes for programs that use RPM technology. This includes CCM, TCM and PCM, as well as remote therapeutic monitoring (RTM) — an even more recent type of care management that extends remote monitoring and evaluation to musculoskeletal and respiratory conditions.
What is remote therapeutic monitoring? Take a deeper dive here
How RPM Helps Deliver Patient Care
RPM is most often used to provide care for people with chronic conditions. This including COPD or other severe respiratory conditions, heart disease, kidney disease, cancer, stroke, diabetes, Alzheimer's disease, influenza and pneumonia, and septicemia, among many others.
As with transitional care management and principal care management, the primary goal of an RPM program is to keep patients with these conditions as healthy as possible, without having to be readmitted to a hospital.
The RPM Model, as Defined by CPT Reimbursement Codes
The CPT codes for RPM offer doctors and healthcare providers reimbursement options for delivering care, as well as a predefined path for delivering that care. Although the details of the reimbursement codes change each year, the basic structure is as follows:
CPT code 99453 covers the time spent for the initial setup, including time spent onboarding a patient — in other words, the initial explanation of the care plan, how any included devices work, and setting up a treatment schedule. This code is valid for reimbursement just once per episode of clinical care (the time from service activation to when treatment ends), even if the patient receives care from more than one clinician or uses more than one RPM device.
Month-to-month remote monitoring
CPT code 99454 covers monthly remote monitoring of the patient, including the supply and use of the medical devices used to remotely monitor and collect patient-generated health data (PGHD). This specifically means data transmission, and does not include time spent educating and setting up the use of the device.
Initial treatment management
CPT code 99457 covers the initial treatment management of the patient, including reimbursement for the first 20 minutes of time spent with a patient. It's intended as a follow-up of the previous two codes. After setup, and after a certain amount of data is collected, this code covers the initial time spent by the physician or qualified clinician in actual treatment.
Additional treatment management
CPT code 99458 covers additional treatment management, which includes reimbursement for the first 20 minutes of time spent with a patient after the initial 20 minutes per month. As with CPT code 99457, this treatment can also be conducted remotely.
Standalone data collection and interpretation
CPT code 99091 also covers the collection and interpretation of remote data, including 30 minutes of RPM clinical time between a patient and a physician per month. Code 99091 is designed to be a standalone reimbursement that's separate from the other CPT codes, and cannot be billed in conjunction with 99457 or 99458. It also requires at least one instance of communication, which can be a call, video visit or even email exchange
What Technology Is Used to Deliver RPM?
Remote patient monitoring is possible thanks to recent advances in technology that allow efficient, seamless, and secure at-home care. Two types of technology form the basis of remote patient monitoring: virtual communication and remote medical devices.
First of all, virtual communication tools are necessary to allow caregivers to speak with patients on a regular basis. This includes the monthly check-ins that are the basis of the CPT codes for reimbursement. And, while these can certainly be delivered using new technology like videoconferencing apps (such as Zoom), in some cases it can also be delivered via telephone. Check the CPT codes for specific details.
Secondly, remote medical devices are essential for remote patient monitoring. The most common RPM devices are used to monitor vital signs, like blood pressure monitors, blood glucometers and pulse oximeters. Other RPM devices like weight scales and spirometers capture additional patient data that's also vital to care.
Many of these RPM devices can also be used in other types of patient care. For instance, a remote blood pressure monitor is essential for chronic care management programs, while a remote spirometer is of use to providers implementing remote therapeutic programs. And the best of these devices let patients upload their information into a clinical portal and EHR/EMR in near real-time.
Get an overview of the most commonly used types of RPM devices here
A remote BP monitor tracks a patient's blood pressure while they're at home. Equipped with that patient data, doctors and care teams can more readily monitor events such as a morning blood pressure surge, and can more frequently check the patient's condition to make timelier, better-informed decisions. This is especially vital for people with chronic heart conditions or hypertension.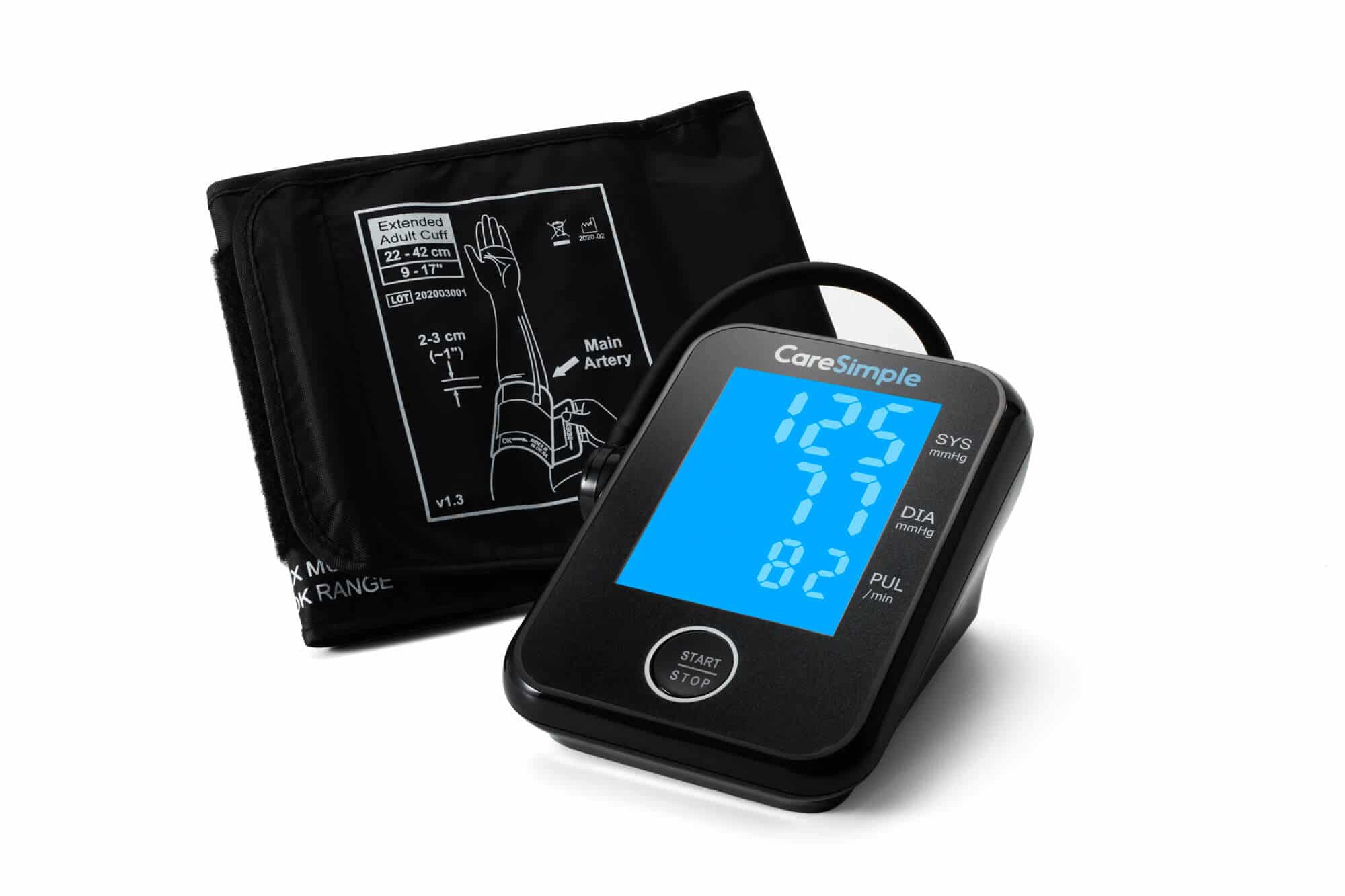 A remote pulse oximeter is designed to remotely monitor both heart rate and blood oxygen levels, which are both critical indicators for patients with chronic diseases like heart failure, lung cancer, asthma, and chronic obstructive pulmonary disease (COPD). Read more about RPM pulse oximeters.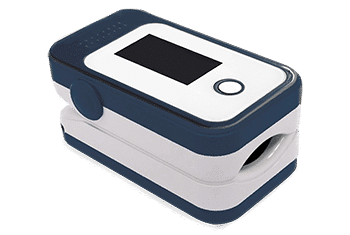 An RPM weight scale offers a fast, easy and accurate way to remotely measure body weight without an in-person office visit. Regular weight readings can give a clinical team faster access to information that's essential for care management. Sudden weight gain or other changes can be a red alert for certain chronic conditions (particularly heart conditions), offering opportunities for earlier intervention.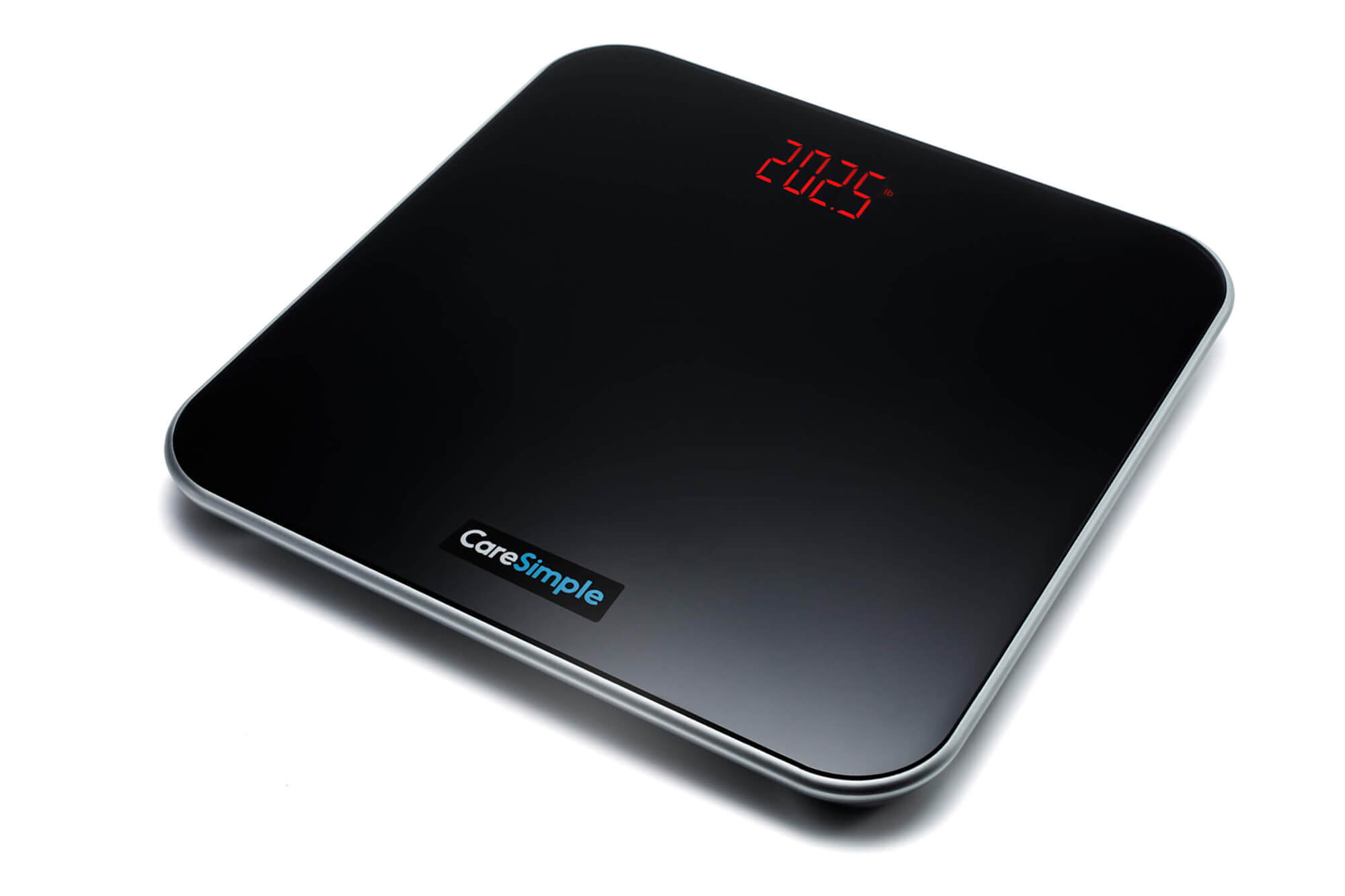 RPM spirometers provide a fast and easy way to measure forced expiratory volume (FEV) and other data concerning a patient's pulmonary (lung) function. Helpful for physicians and care providers who are managing patients with chronic conditions like COPD and congestive heart failure (CHF), remote spirometers can also be used for reimbursement for RTM care in some instances.
A remote patient monitoring glucometer, or blood glucose meter, is used to provide information on a patient's blood glucose levels — a critical health indicator for diabetic and pre-diabetic patients. An easier, more convenient way to monitor blood sugar levels means patients are better equipped to follow doctor recommendations, while giving providers better info to make treatment adjustments.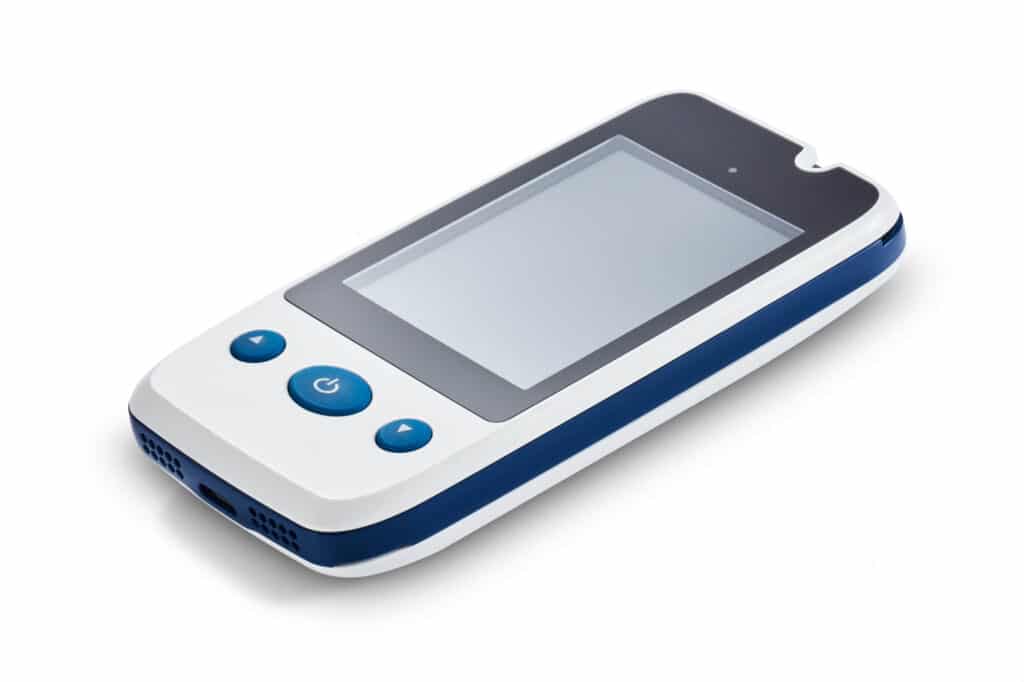 The Benefits of Remote Patient Monitoring
A big reason why RPM has become such a key part of the American healthcare industry is its ability to offer a rich variety of benefits to everyone involved — patients, healthcare providers and payers, and even the system itself.
How Does Remote Patient Monitoring Benefit Patients?
Perhaps more than any other group, patients have embraced RPM as a means of comfortably receiving care at home. Receiving treatment in the comfort of home, surrounded by loved ones, helps offer comfort and convenience, as well as a more effective way to engage with treatment.
Not only do most people of all ages have some kind of mobile device, but many millions also regularly engage in self-care activities with step monitors and other popular apps. So, what was once a barrier to telehealth, computer literacy, is now a boon, with rates today at all-time highs today, even among seniors. (An AARP study released in 2020 found that 77% of older Americans use a smartphone.)
To better promote this comfort and convenience, the best platforms for remote patient monitoring include interface options that are easy and intuitive for patients to use. Using a browser website or a smartphone app, they can keep tabs on the details of their own care, every day. For some patients, that creates enthusiasm and engagement that were difficult to achieve with more traditional care models.
The 24/7 monitoring offered by RPM can also be a source of comfort for patients worried about their condition. For those who are already engaged with their care regimen, one of the biggest benefits of remote patient monitoring is the chance to stay in contact with doctors and caregivers about critical concerns at all times
And because it's designed to be used across distances, RPM can particularly benefit patients who live in remote and rural areas, and therefore may not have access to the care that other people do.
And finally, RPM often lets patients receive high-level treatment at a much lower expense than traditional care, which often helps alleviate financial worries — a top concern for many patients today. The new CMS codes for remote patient monitoring and RPM-adjacent care models help ensure that this critical part of chronic care is covered by insurance (as much as 80%, after deductible).
By allowing for more at-home care, and fewer trips to the clinic or hospital, remote patient monitoring programs also offer patients other perks like less money spent on gas and time wasted traveling. And many patients are also acutely aware of the potential financial consequences of a hospital or emergency room visit, giving added appeal to the higher quality of care made possible with RPM.
How Does Remote Patient Monitoring Benefit Providers?
Enhanced comfort and convenience for patients is a benefit for providers, too, offering an effective way to enhance the patient experience that's currently top of mind for so many leaders. Greater patient acceptance can help drive engagement and adherence to a medication regimen. It can also contribute to satisfaction and overall patient health outcomes — the ultimate goal of any model of patient care.
With 24/7 monitoring, RPM also offers providers a valuable source of more detailed data than has ever been available before. This helps provide a better understanding of each patient's condition at any given time — a critical factor in treating chronic care patients. This kind of close watching also helps prevent escalations in the patient's condition, which can contribute to improved outcomes.
On top of that, partnering with a leading RPM platform provider means also getting access to expert guidance on how to use all that data. Advanced data analysis and reporting tools, which can be integrated into an organization's EHR system, can quickly manage and leverage huge amounts of data to better manage patients, populations, outcomes, even workforce concerns like scheduling and planning. 
RPM systems helps nurture the patient/provider relationship by offering a greater ability for communication. And given the stresses and challenges related to chronic care, that bond can be not only a source of comfort for patients, but also a better way of engaging them in their care regimen, boosting the potential for positive patient outcomes in the process.
How Does Remote Patient Monitoring Benefit Payers?
The improved data and 24/7 monitoring that helps doctors provide better care also directly benefits payers seeking to reduce claims for readmissions and escalations and other events. It also helps prevent escalations, which can contribute to improved outcomes, offering the potential to save organizations significant expenses with fewer re-hospitalizations (and the CMS penalties that can go along with them).
According to the U.S. Centers for Disease Control and Prevention (CDC), 90% of the $3.8 trillion spent each year on healthcare in the U.S. goes toward people with chronic and mental health conditions.
Correspondingly, the CDC's website calls for reducing these costs by better preventing chronic diseases, or better managing symptoms "when prevention is not possible."
To that end, CMS has introduced a number of ways to enable providers to provide more effective, patient-focused care for chronic illness, including the reimbursement for remote patient monitoring. By helping prevent re-admissions and escalation, RPM also helps the industry as a whole move toward value-based care, which is a benefit to everyone in the care continuum.
Download the ultimate guide of the Remote Patient Monitoring
Estimating the Costs of Remote Patient Monitoring
What's the average cost of an RPM program, and what kind of financial investment should leaders expect to make? As with any service that's adapted to a facility's unique needs, the specific cost of an RPM program will vary depending on a number of factors, including the type of facility, population and devices needed, as well as workforce needs, and the software and reporting that's used.
RPM Cost Factors: Facility Type
What type of facility will be implementing the solution? Because it's designed to treat patients at home, RPM can be administered by a wide variety of providers, from hospitals to post-acute facilities, and pretty much every one in between. The type of facility, and to what extent the technology is integrated, will affect the size of the implementation and subsequent cost, both in terms of initial setup and long-term financial returns.
RPM Cost Factor: Patient Population Type
The cost of RPM is best determined by the size and the type of the patient population being treated. Most organizations choose to begin an RPM program on a relatively small, specific pilot group before expanding to larger patient populations. And since RPM is often used to treat patients with chronic conditions, creating these pilot programs is a fairly simple matter for administrators.
Pilot programs give organizations a good idea of what to expect when scaling the program to a larger population, in terms of cost as well as outcomes. It's also important to remember in these calculations that efficiencies often expand with wider use, further increasing the value over time. In addition, staff will become better at providing RPM services as use grows, further reducing operational costs.
RPM Cost Factor: Workforce Adjustments
Another major factor in the cost of an RPM program is whether an organization's current staff has the skills to deliver remote care. Does your facility have any telehealth programs currently in place, for instance? Or will this be new territory for your workers? Do you have any professionals on staff who specialize in remote care — and if not, how much training will be needed?
Although many RPM partners offer employee training, facilities that implement an RPM program on a piecemeal basis may have to cover this expense on their own. An honest assessment of a facility's true level of preparedness will help leaders understand what investments will be needed, whether in group training or access to specific CE classes around telehealth and remote care.
RPM Cost Factors: Type of Devices Needed (and How Many)
Estimating the number of RPM devices you'll need for a specific population can be another effective way to understand the overall cost of remote patient monitoring to your organization in advance. And this is a fairly simple matter of measuring the specific needs of each patient in your pilot program.
As noted above, RPM is based on the use of a variety of remote medical devices. Which of these specific devices you need — and how many — will depend on the patients. If your pilot program is patients with COPD, for instance, or hypertension, different devices will be needed. And it should be noted that choosing devices with advanced capabilities like seamless and secure EHR transmission can help further improve a program's chance of success, which can translate to financial ROI.
RPM Cost Factors: Type of Software
In addition to devices, RPM requires the use of software to sync up all its components into a workable, fully functional solution. There are a few options here, from one-time purchases to subscription-based services to fully integrated partners. The first requires a significant up-front payment, and continuous investments in renewals and upkeep. The others offer RPM software as a package, with no additional fees for implementation, and no added cost for security patches or scaling up to include new patients.
 Investing in higher-grade RPM software could make a big difference as to whether a program is successful, while the use of lower-cost solutions could deflate the program's overall value by requiring staff to spend long hours manually entering or trying to analyze badly organized data, for instance.
RPM Cost Factors: Analytics and Reporting
To further defray the cost of a remote patient monitoring program, leaders should look for the inclusion of an integrated program of analytics and reporting. This can help ensure continuous improvement through regular analysis of key metrics and data, which can help organization get the maximum value for a program, lowering overall costs in the long run.
For busy leaders, the information provided by analytics could help drive better-informed decisions that affect the quality of care of entire populations, thus deriving even more value from the program. So, it's worth making the extra investment in an analytics and reporting option at an early stage — or partnering with a provider of customizable RPM solutions offering built-in tools for just this purpose.
Beyond Standalone Care: Other Care Management Models that Use RPM
"RPM today is still in its very beginning, despite all the years and sweat we've devoted into it," as CareSimple CEO Michel Nadeau has explained. "But RPM is getting entrenched into a diverse set of clinical workflows, ready to be prescribed by physicians for their patients."
In other words, as essential as it has become in delivering quality care for at-risk patients, RPM also plays an important role in supporting a number of other care management models. From post-discharge care and hospital-at-home (HaH) programs to digital therapeutics and population health management services like chronic care management (CCM), an effective RPM platform can also drive many other beneficial care management programs for healthcare providers.
How RPM Supports Population Health Management
Population health management has become central to care delivery, offering a more effective means for treating entire patient populations. By emphasizing specific outcomes, measurements and standards of accountability among patient segments, population health management can help providers improve outcomes with more specific data, save money through streamlining, among other benefits.
By enabling the regular collection, transmission and analysis of patients' vital signs and other important physiologic data, RPM serves as the foundation for many CCM programs. In addition to devices, RPM delivers the built-in analytical power needed to distinguish and monitor other population health segments. You can read more about how RPM powers population health management solutions here.
How is RPM Different from Chronic Care Management (CCM)?
Closely associated with the treatment of chronic care, RPM can be easily mistaken for chronic care management. But as reimbursement models for patient care, there is a difference between the two — and, in fact, many providers receive reimbursement by "coupling" both models.
"CCM patients already benefit from care coordination," as we explained in our white paper on using RPM for population health management. "These patients have therefore provided their consent for the program and are assigned to a care manager, and all have been diagnosed with two or more chronic conditions. They are all candidates for RPM as a complementary program.
"In many physician groups, patients are often managed by the same care manager. This means that simply requesting a verbal consent is often all that's required to add the patient."
Strictly speaking, patients must have at least two chronic conditions to qualify for CCM. The idea is to closely monitor their care and promote engagement to help them avoid readmissions and re-hospitalizations, as well as the development of comorbidities or other deterioration. You can find more details, along with the most recent codes for chronic care management (CCM), here.
How RPM Supports Post-Discharge Care
In addition to the strictly defined care parameters for CCM, RPM technology is also frequently used to treat high-risk patients in other contexts. For instance, its ability to monitor the vital signs and other important patient data gives doctors and care teams the power to better manage patients during the critical period when they've been discharged from acute care.
Post-discharge care of this type is delivered in two phases. Transitional care management (TCM) reimburses billing practitioners for treating patients with a complex medical condition during their 30-day post-discharge period. And principal care management (PCM) covers the reimbursement of such high-risk patients during the subsequent period, from three to twelve months in total. You can read more about PCM here, and learn more about TCM here.
How RPM Supports Hospital-at-Home (HaH) Programs
Hospital-at-home (HaH) is a type of care management model that leverages remote patient monitoring to deliver hospital-level care in a patient's home or place of residence. In addition to promoting engagement and outcomes, HaH can also be a valuable tool in freeing up bed capacity and reducing the risk of in-hospital infection.
Like CCM, HaH is often deployed with patients suffering from serious injury or a chronic condition. Also like CCM, it can leverage RPM technology for the better monitoring of those patients, as well as the ability to offer doctors and care teams better, more timely data — and much more of it. You can read more about how RPM drives hospital-at-home programs here.
How RPM Supports Digital therapeutics
RPM solutions are also becoming critical to the newest of these models, digital therapeutics. Leveraging both telehealth and mHealth software, tools and applications to offer "a new category of medical interventions," as Xtelligent Healthcare Media describes it, digital therapeutics can be used for chronic conditions and serious injuries, as well as a diverse range of other treatments.
Although many digital therapeutics are in their early stages, experts predict rapid growth. And for many of its potential applications — musculoskeletal (MSK) treatment for low back pain, and cognitive care relating to substance abuse, attention-deficit disorders and hyperactivity, for instance — remote patient monitoring is poised to play a major role.
Looking for More Info or Guidance on Remote Patient Monitoring?
Looking for more details on how CareSimple can help your organization better understand remote patient monitoring, or get help implementing an effective RPM program? Contact us here to connect with a CareSimple RPM specialist.
Download the Ultimate Guide