CareSimple and UCSF Announce Clinical Trial on Equity in Remote Hypertension Self-Management
UCSF Researchers to Leverage Industry-Leading RPM Platform for Remote Monitoring for Equity in Advancing Control of Hypertension (REACH) Study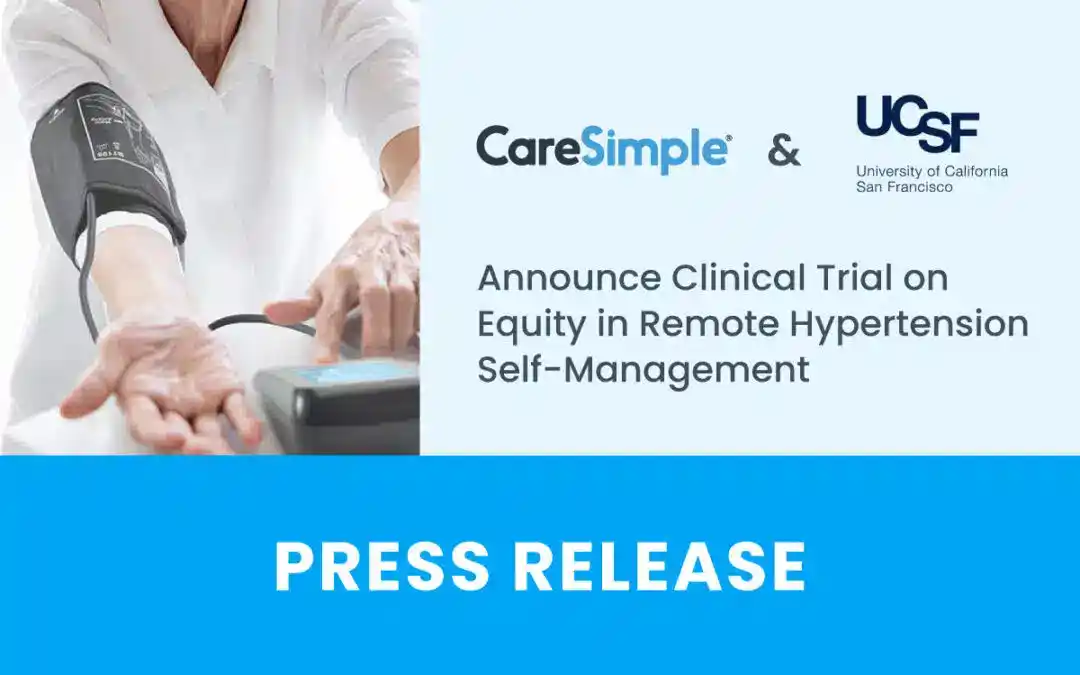 North Palm Beach, Fla.,  August 21, 2023 – CareSimple®, the platform simplifying remote patient monitoring (RPM) for virtually all patients has announced a partnership with the University of California San Francisco (UCSF) to conduct the Remote Monitoring for Equity in Advancing Control of Hypertension (REACH) clinical trial.
A study on the use of home blood pressure monitors and digital messaging programs in support of hypertension self-management, REACH will involve 540 patients and utilize CareSimple's RPM solution to assess the effectiveness of self-measured blood pressure monitoring (SMBP) that leverages cellular-connected blood pressure (BP) monitors without a need for Wi-Fi or Bluetooth. The study will also support patient engagement with simple communication modalities such as two-way messaging between patients and clinicians and integrate remote monitoring into existing workflows in safety-net clinics. You can read more details about the study here.
There are known disparities in hypertension in the United States, with individuals from marginalized communities facing increased barriers to control.  UCSF's REACH study is addressing these disparities by designing and implementing a study within a safety net healthcare system.
"We are excited to launch our randomized trial and to utilize cellular blood pressure monitors to support our English- and Spanish-speaking patients in hypertension management in their everyday lives," said Courtney Lyles, PhD, director of the Center for Healthcare Policy and Research at UC Davis (formerly on faculty at UCSF), and the study's principal investigator.
"One-third of Americans live with hypertension in the United States," Dr. Lyles added. "It is the leading risk factor for cardiovascular disease and the most common cause of avoidable death and disability in the U.S. For patients from historically and presently marginalized communities, there is an increased prevalence of both hypertension and uncontrolled hypertension, representing the need to explicitly focus interventions and solutions to reduce health inequities."
For CareSimple, the announcement continues a longstanding tradition of supporting research on remote patient monitoring, which began with a 2015 study alongside the University of Michigan on the effects of pharmacist-led home blood pressure monitoring and medication reminders on people with hypertension.
"We are thrilled to be entering into a partnership with forward-thinking strategic leaders who embrace tech-led innovation such as the University of California San Francisco, which holds high status among the institutions with the highest research and development funding," said Michael Nadeau, CEO and Founder of CareSimple.
"We're also excited at the prospect of helping health systems and provider groups achieve the kind of care transformations that can change lives, and to provide patients with virtual care beyond telehealth — the kind that lets them skip the waiting rooms while also empowering better-informed clinical decisions." To learn more about the REACH clinical study, you can visit the government's dedicated page here.
ABOUT UCSF
UCSF is the leading university dedicated to promoting health worldwide through advanced biomedical research, graduate-level education in the life sciences and health professions, and excellence in patient care. It includes top-ranked graduate schools of dentistry, medicine, nursing and pharmacy, a graduate division with nationally renowned programs in basic biomedical, translational and population sciences, as well as a preeminent biomedical research enterprise and two top-ranked hospitals, UCSF Medical Center and UCSF Benioff Children's Hospital.
For more information about UCSF, please visit https://www.ucsf.edu/.
ABOUT CARESIMPLE
CareSimple® is a solutions provider for Remote Patient Monitoring (RPM), Hospital in The Home (HTH), Chronic Care Management (CCM) and Remote Therapeutic Monitoring (RTM). The CareSimple platform offers a single end-to-end solution that integrates into electronic health records, including Epic, providing payers, health systems and physician groups with software, medical devices, connectivity, logistics, and professional services required to run different virtual care programs leveraging remote monitoring and coaching.
Founded in 2009 and based in Palm Beach Gardens, Fla., CareSimple is HIPAA and GDPR compliant and operates under the rigor of its ISO 13485 Quality and ISO 27001 Security audited certifications. For more information about CareSimple, please visit https://caresimple.com/.
PRESS CONTACTS
CareSimple [email protected]