What is Remote Patient Monitoring?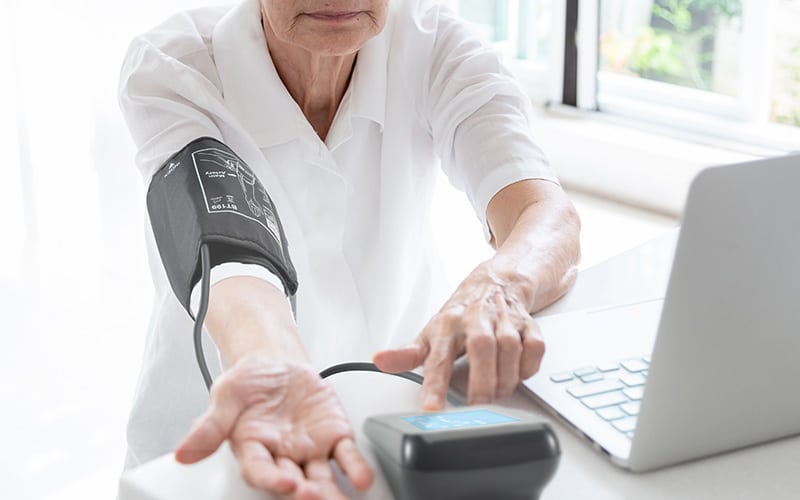 It is estimated that 30 million U.S. patients will use remote patient monitoring (RPM) tools by 2024, and demand for the technology continues to grow. As RPM gains in popularity, we thought it might be helpful to explain what it is exactly, how it works and the benefits it provides to both patients and providers that makes the virtual care delivery solution increasingly sought-after.
RPM is a technology offering that enables the monitoring and collection of patients' physiologic measures outside of a traditional healthcare environment, such as at a patient's home or office. Care managers use dashboards, clinical alerts and secure messaging to deliver remote care services to patients, and patients then self-collect their own health data as prescribed by their care plan using connected devices/equipment such as blood pressure cuffs, body scales, heart rate and pulse oximetry monitors, blood glucose monitors, spirometers and mobile apps. Through 4G-enabled medical devices, the data is sent electronically with ease over cellular networks directly to the physician's office for review. RPM also incorporates the data processing, secured storage and analysis that occurs in between data collection and reporting.
Remote Patient Monitoring and Chronic Care Management Benefits
To date, launching an RPM practice has proved easiest, fastest and most effective as a complementary care program to Chronic Care Management (CCM). RPM can free up physicians' time spent managing the chronic conditions of their patients— hypertension, diabetes, congestive heart failure, etc.— with staff managing tasks typically associated with clinicians. As the logistics of care delivery improve—a decrease in office visits, patient travel and waiting times, and the associated costs that patients incur—provider offices gain efficiencies. Through RPM, physicians have access to robust, detailed and often real-time physiologic data sets, enriched by the number and frequency of readings. This, in turn, gives physicians a clearer and holistic view of their patients' health and treatment adherence, and enables timely interventions and more informed care plans.
Medicare Reimbursement Guidelines
RPM and CCM can help reduce readmissions, ER visits and overall operational costs, making them attractive programs for any payer or provider in a risk-sharing contract.
For providers operating in a fee-for-service model, Medicare reimburses the setup, clinical time spent, and equipment used to provide RPM, and the time spent providing CCM. Combined, these programs can add up to more than $2,000 per patient per year and create a new revenue stream while improving care for patients.
The cadence of RPM collection and transmission is determined by patients' diagnoses, condition acuity and other factors such as the compliance rules dictated by Medicare, which are a minimum of 16 days of patient data collection per 30-day period as per CPT code 99454. Care managers review the data and adjust treatment and care plans accordingly, including setting in-clinic visits or arranging referrals as warranted. The net result? When RPM is used effectively and patients engage fully, practice efficiency is improved, costs are reduced, compliance is increased and care is improved.
The Importance of Simplicity
At CareSimple™, we are proud to provide an easy-to-use, secure, and scalable way to offer remote patient monitoring to at-risk patient populations.
With over ten years in RPM, serving hundreds of thousands of patients, we believe that addressing the following challenges maximizes the chances of making an RPM program successful:
Complexity for patients
Interoperability
Platform quality/reliability
Completeness of services, including logistics
Difficulty to adapt new virtual care workflows
CareSimple is built with these challenges in mind, shipping directly to patients while integrating more than 40 different EHRs and being ISO-certified for quality and information security.
Our end-to-end virtual care solution seamlessly integrates into electronic health records, providing hospital systems and physician groups with software, medical devices, connectivity, logistics and professional services required to improve their population health programs with RPM.